LEVEL VELO
Regular price
Sale price
$104.00
Unit price
per
Sale
Sold out
Elite Indoor Cycling Bundle
Discover the pinnacle of comfort and performance with the Level Velo Elite Indoor Cycling Comfort Bundle. This exclusive bundle combines two game-changing products to enhance your indoor cycling experience.
The Level 51 Race Jersey: Dominate your indoor races with the Level 51 Race Jersey. Designed for elite indoor racers, this jersey is a masterclass in comfort and style. Crafted from lightweight, breathable fabrics, it ensures you stay cool and dry, even during the most intense sessions. The moisture-wicking materials provide rapid evaporation, and the full-length zip offers added ventilation. This top-of-the-line jersey is also a versatile outdoor riding base layer, combining style and high-performance in one.
Level 61 Cycling Shorts: Elevate your comfort with the Level 61 cycling shorts, tailored for intense indoor cycling sessions. Engineered with a focus on breathability, these shorts keep you cool when the heat is on. The durable and comfortable pad is perfect for longer indoor rides, and the breathable materials guarantee dryness while maintaining modesty. The power band leg grip ensures a secure fit and superior comfort, making these shorts a go-to for indoor cycling or extended outdoor summer rides.
Achieve a new level of comfort and breathability during your indoor cycling sessions. The Level Velo Elite Indoor Cycling Comfort Bundle is your ticket to an enhanced riding experience.  
Share
Size Guide
View full details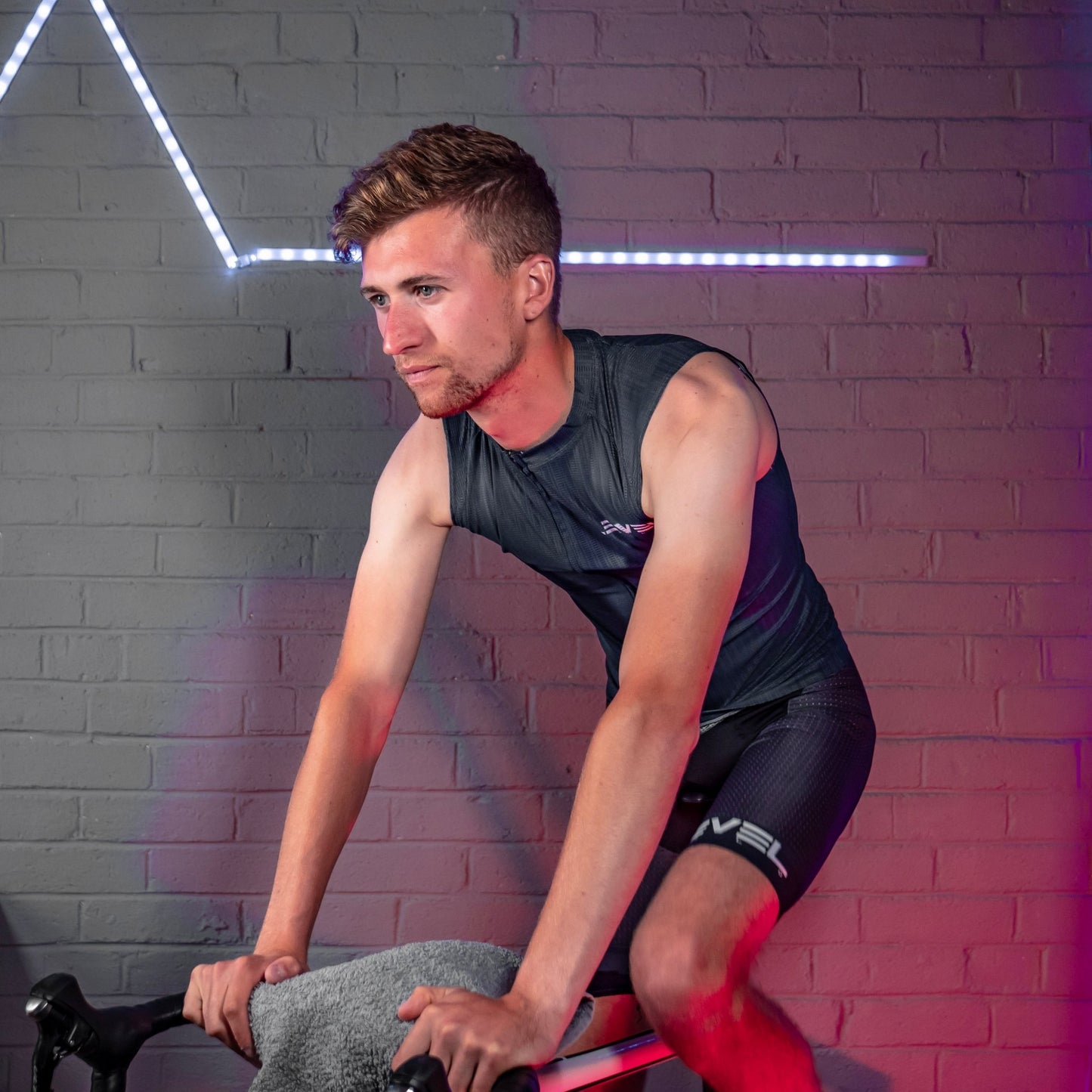 Sizing Guide
Sizing Guides for Level Velo Jersey and Shorts.
Understanding LEVEL Velo's Cycling Clothing Sizing: Elevate Your Race Fit
At LEVEL Velo, we pride ourselves on delivering cycling clothing that offers a close aerodynamic race fit, empowering you to perform at your best on the road. Our sizing is intentionally designed to provide a sleek, streamlined profile that enhances your performance and minimizes drag.
Embrace the Race Fit: Our garments feature a race-inspired fit, tailored to hug your body closely for optimal aerodynamics. This close fit not only reduces wind resistance but also ensures a second-skin feel, allowing you to move effortlessly on the bike and push your limits.
Sizing Note: Please keep in mind that our sizing may run on the smaller side compared to traditional jerseys. To find your ideal fit, we recommend referring to our comprehensive sizing chart, which provides accurate measurements for each garment. Taking accurate body measurements will help you select the perfect size that complements your riding style and preferences.
Designed for Performance: LEVEL Velo's cycling clothing is meticulously crafted from top-quality materials, sourced from Italy, to elevate your riding experience. The close race fit, combined with the advanced fabrics, ensures maximum breathability, comfort, and performance on both indoor and outdoor rides.
Your Racing Edge: As you ride in LEVEL Velo's cycling apparel, you'll discover the true potential of race-focused attire. Our sizing and designs are engineered to give you the competitive edge, so you can focus on the road ahead and achieve your cycling goals with confidence.
Elevate your cycling experience with LEVEL Velo's race fit sizing. Get ready to conquer the roads with aero efficiency and unrivalled performance, as you step into a new realm of cycling greatness.
"The best jersey for indoor I have ever used. breathable lightweight and the full length zip is awesome."
Breathable Fabric

Full Length Zip